Property Brothers | Celebrity I.O.U. Season I
Benson-Cobb's artwork was featured as a key design element on three episodes of HGTV's Celebrity I.O.U. Season I. The high profile series aired in the Spring of 2020, featuring the artwork as final reveals for Hollywood heavy hitters Viola Davis, Jeremy Renner, and Canadian singer Michael Bublé. 
Viola Davis
Season I - Episode 3 Viola works with Jonathan and Drew Scott to create a peaceful sanctuary for her acting school roommate and best friend of 30 years with a home renovation.
Artwork: Promontory was customized as a diptych canvas, framed in ebony. The set of two canvases measured 72" wide x 36" tall for maximum impact. Oceans Reflected was customized in a blush tone, printed on hand-torn papers, and framed under clear glass.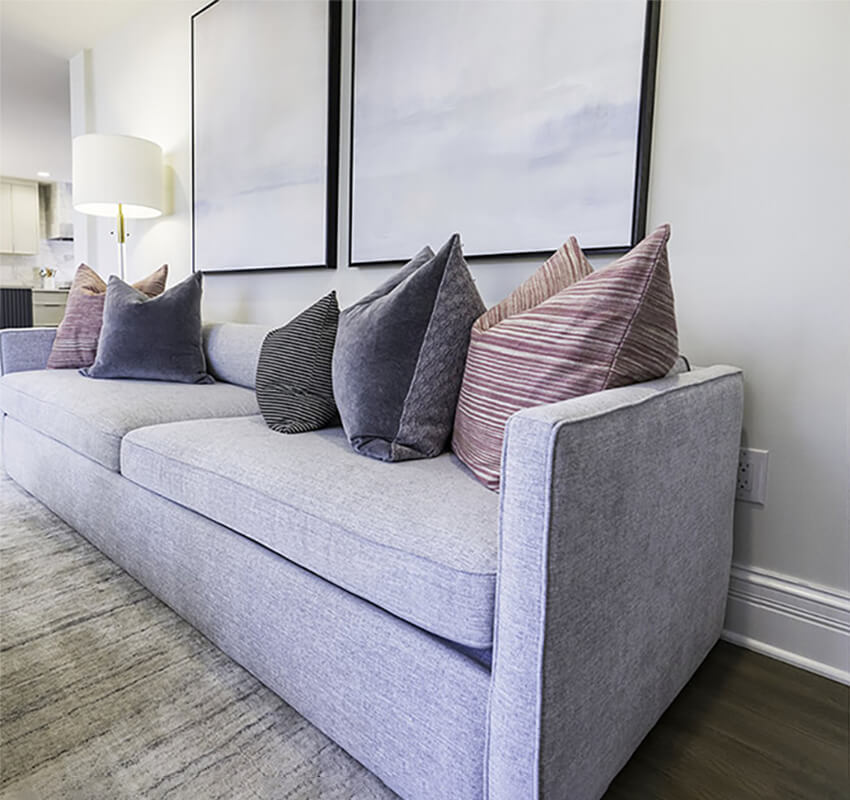 Promontory
The soft grays and pale blues create a soft yet dramatic focal point. The custom diptych is framed in ebony for contrast.
View
Oceans Reflected
The Limited Edition set of two hand-torn cold press papers are floated on linen matboard, numbered, and initialed. Each artwork is framed in ebony under 1/8" clear acrylic. A certificate of authenticity is included. 250 sets are offered.
View
Michael Bublé Installation
Season I - Episode 4 Michael pays tribute to his grandfather by fulfilling his final wish: to provide his caretaker with a place to live with her family. Michael calls on Drew and Jonathan Scott to help him renovate his grandfather's house before surprising her with it.
Artwork: Sublime is featured over the sofa in a custom 78x47" canvas, framed in ebony. The artwork is rotated 90 degrees, creating a dramatic wall. In Pieces in a 39x57" canvas hangs in the entry, framed in ebony.


Jeremy Renner Installation
Season I - Episode 6 With the help of Jonathan and Drew Scott, Jeremy transforms his mom's 1970's condo into a modern-meets-cozy space with grandkid-friendly features.
Artwork: Shelter and Balance Textilesare featured in the living area, creating a subtle, sophisticated mood. Torn is minimalistic as well, hanging in the dining area, creating a connection with the artwork and mood in the living space.